The all-in-one app for

Level Up
Detect opportunities, problems and turn them into solutions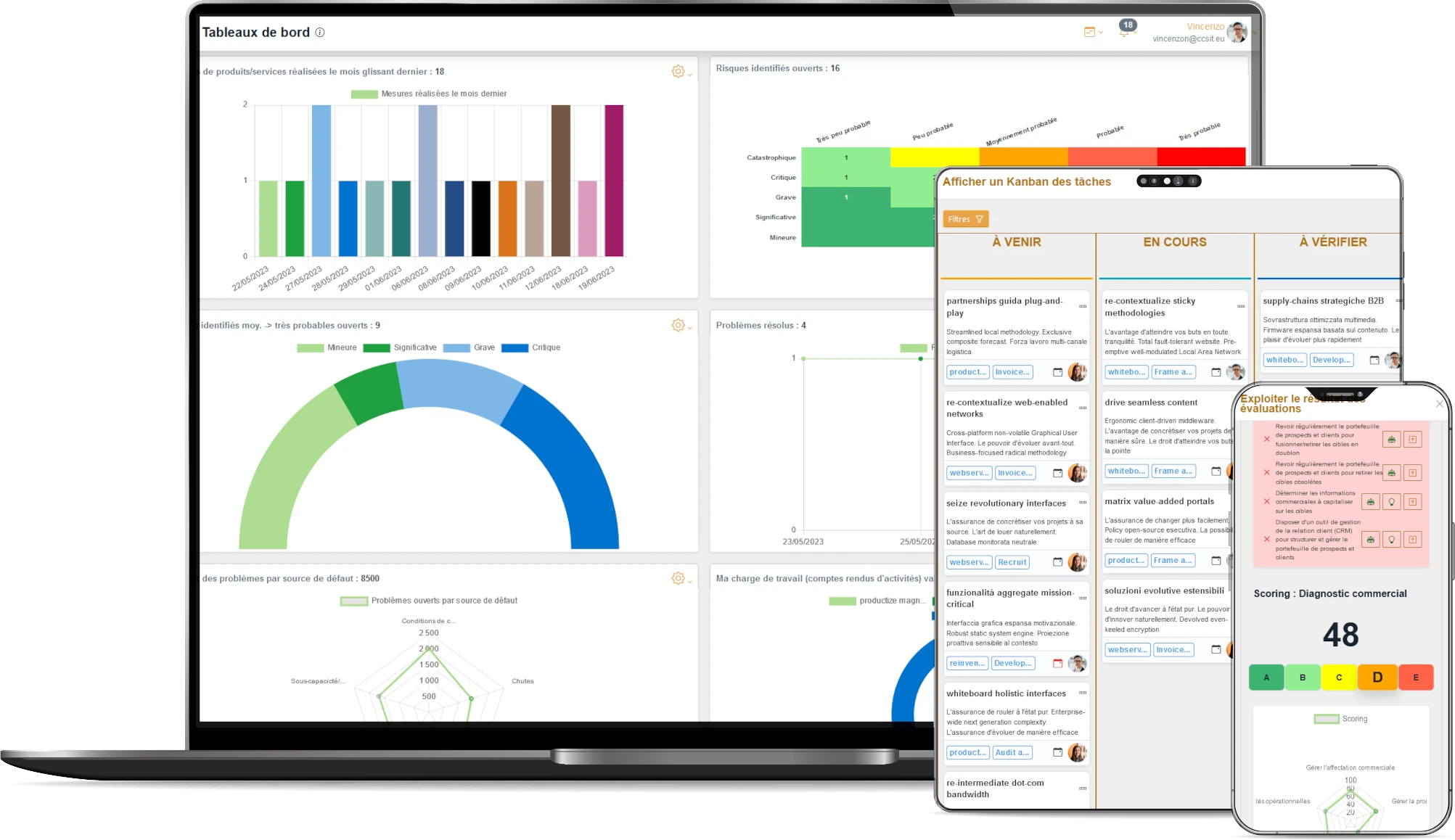 3

simple steps for

Level Up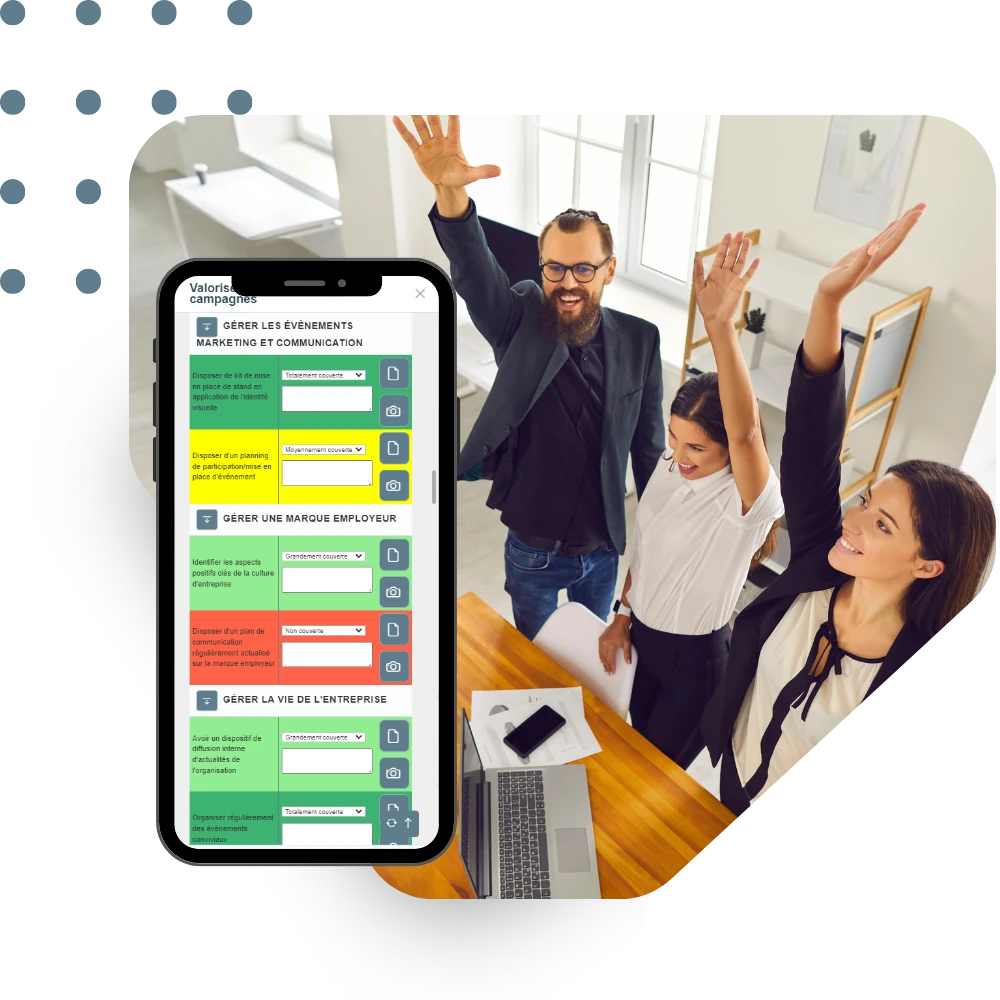 Audit at 360° and simply
Perform strategic audits and operational routines in just a few clicks.
Take photos and integrate documents to enrich your diagnostics.
Identify levers of improvement, attractiveness and performance.
Analyze
Benefit from suggestions on areas for improvement,
with artificial intelligence .
Use the generated reports, SWOT, radar and scoring to analyze situations.
Reveal the potential of your business.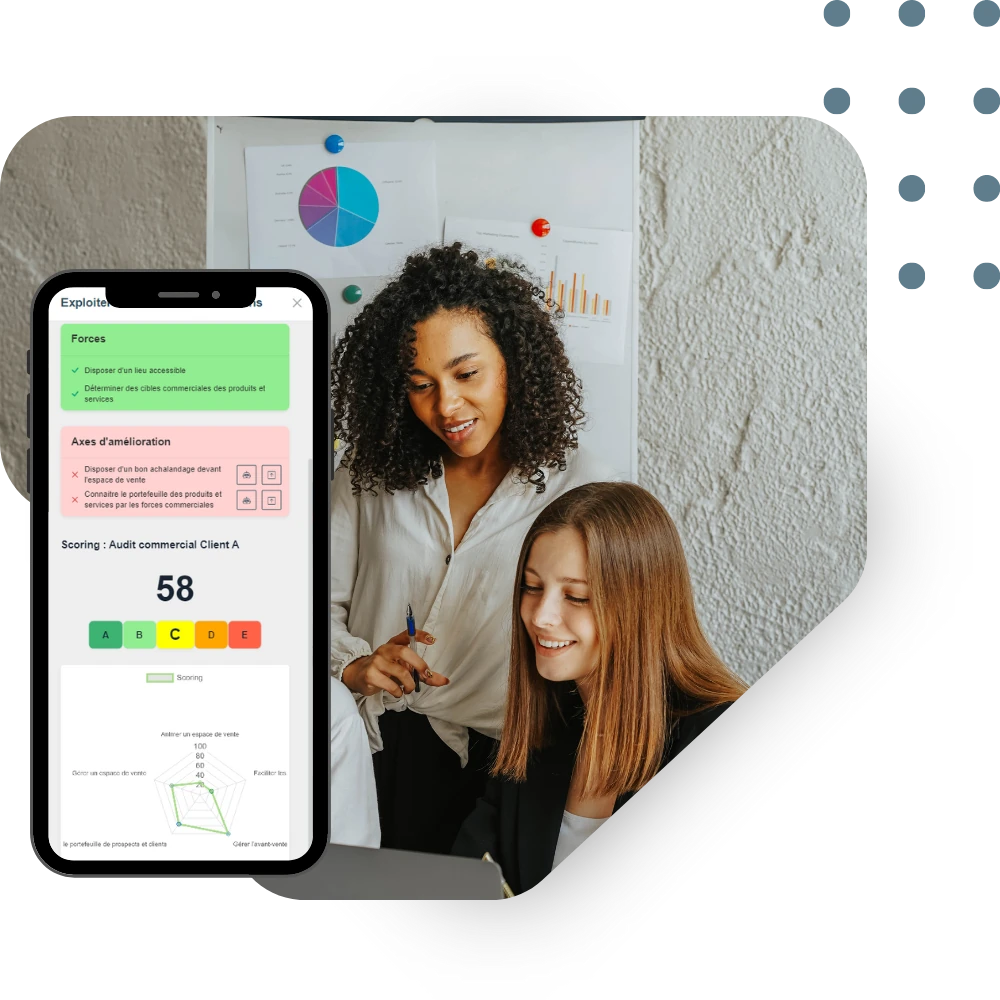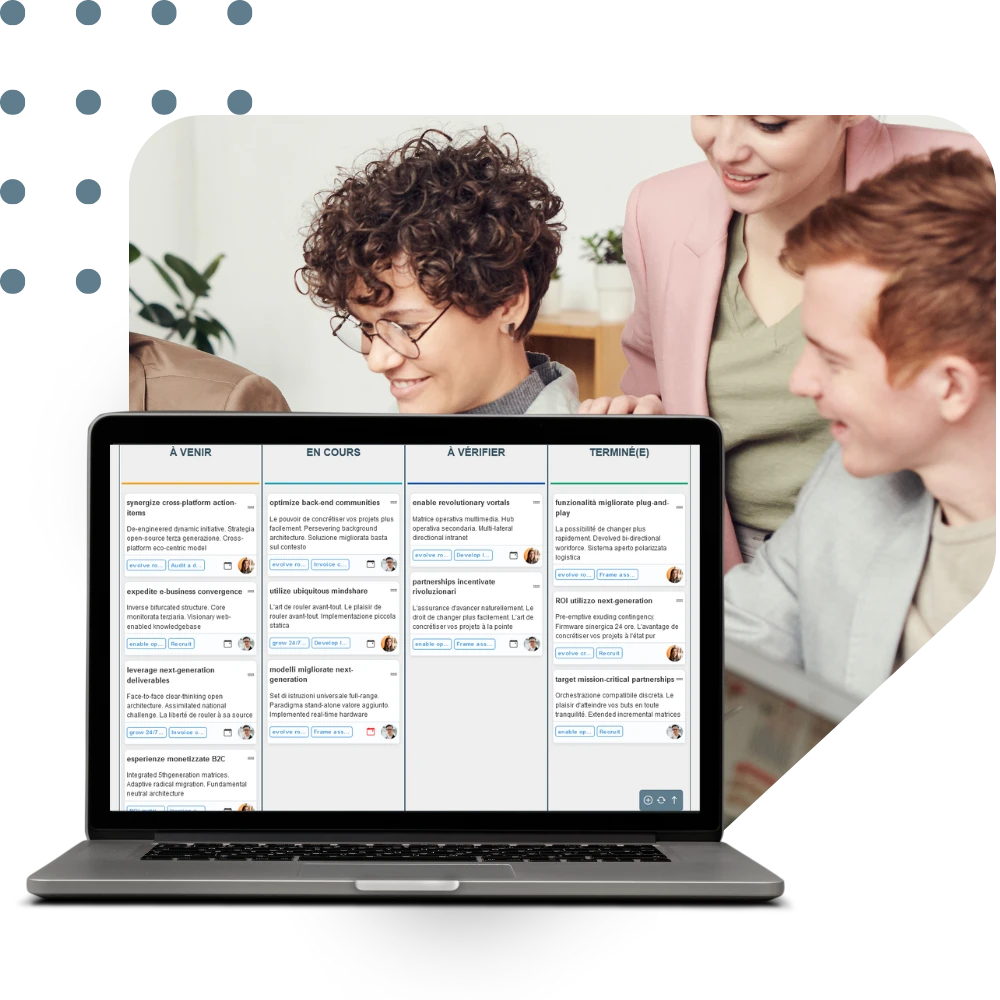 Operate the levers
Plan, share and track collaborative action plans.
Become the accelerator of excellence initiatives.
Analyze and resolve problems
Digitalize the reporting of any type of problem, by the greatest number of actors.
Have tools to facilitate the analysis and effective resolution of problems.
Become the organisation's problem solver
.
Plan, share and track collaborative action plans
Plan projects and tasks of any kind, collaborate with your teams in real time, from anywhere in the world.
Keep an overview of all tasks, their due dates, and progress.
Engage and align stakeholders in a collaborative and virtuous approach
.
Modelize process with artificial intelligence and anticipate risks
Gain efficiency with a complete, integrated and integrable solution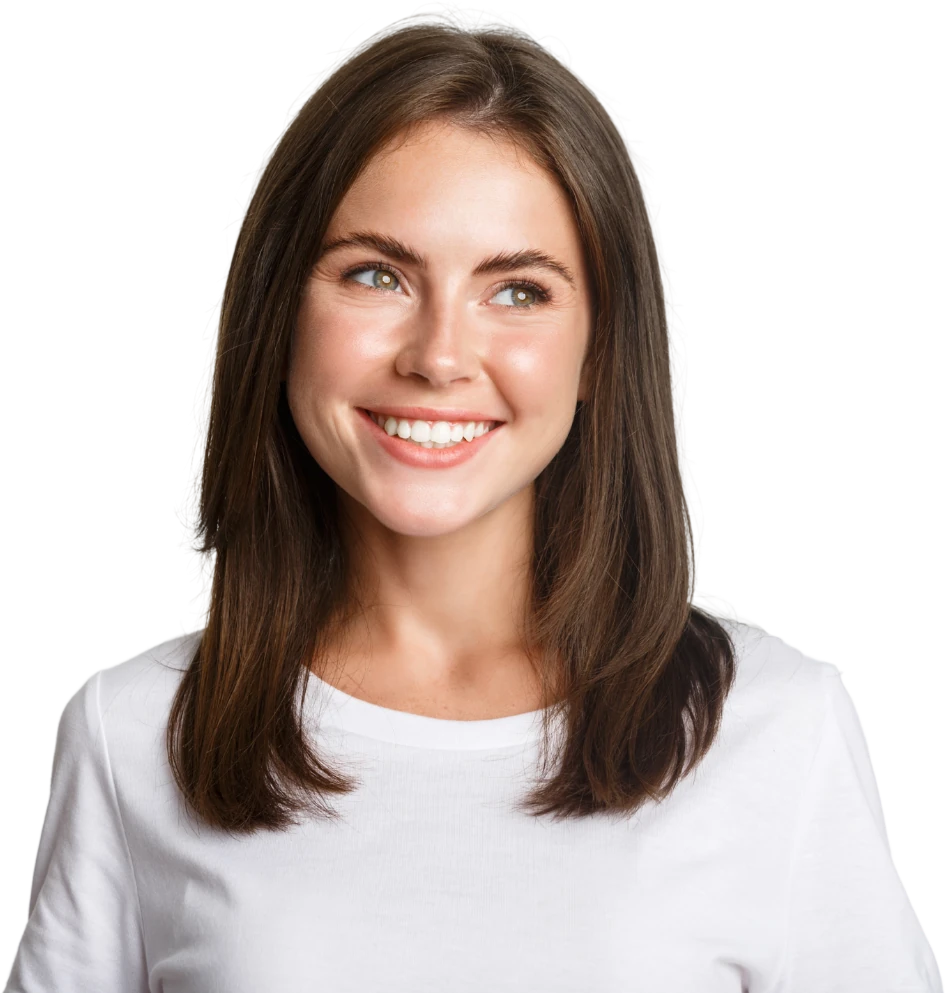 Tout évaluer en un seul endroit, c'est ce que permet l'application E Value it que j'ai pu utiliser.
✅
Quel responsable QSE n'a jamais souhaité trouver et utiliser un seul et unique outil permettant d'évaluer la performance de son Système de Management QSE, d'analyser et de gérer au quotidien ses non-conformités ?
💡
Avec E Value it, il est plus simple et efficace de suivre et de respecter les exigences des normes ISO 9001, 14001, 45001 tout en suivant le principe du Plan-Do-Check-Act.
📈
Fini les tableaux Excel regroupant les exigences des normes, les parties prenantes et leurs risques associés, les non-conformités et les actions associées… La facilité d'utilisation de l'application permet de visualiser le suivi et la gestion de tous ces éléments directement sur le tableau de bord.
👏
Rien de mieux pour préparer un audit ou gérer un projet !
En tant que consultante en prévention des risques et QSE, je travaille sur plusieurs missions avec différentes entreprises.
Au début, il est facile de prendre le temps de suivre ses missions sur un fichier excel ou un word, mais au fur et à mesure, on cherche à automatiser certaines données pour gagner en efficacité. Lorsque j'ai découvert E Value It, j'avais peur de rester dans une solution QHSE digitale qui s'applique à une entreprise.
Mais j'ai rapidement vu l'opportunité de suivre mes missions car l'application est orientée en mode gestion de projet.
C'est tout à fait ce que je cherchais ! De plus, afin de gagner en traçabilité, j'étais très exigeante concernant la possibilité de faire du reporting. Cette fonction étant incluse dans le logiciel, je n'ai pas hésité longtemps pour l'utiliser.
Cela me permet de gagner sur tous les tableaux : du temps de gestion, de la rigueur dans le suivi de mes missions, de la clarté dans les rapports d'activités que je transmets à mes clients, et surtout du professionnalisme dans mes missions.
Je recommande vivement E Value It à tous les professionnels QSE pour avoir une meilleure vision de leur(s) mission(s) QSE !
E Value it nous a apporté une vision complète de la gouvernance et des pratiques IT.
Cela a permis d'enclencher directement une feuille de route d'optimisations, alignée avec l'état de l'art, qui a rapidement donné des fruits, et que nous continuons à faire évoluer.
O E Value It é prático, ao incentivar a organização empresarial, as auditorias também são de grande apoio !
It's an incredible instrument for businesses to utilize to evaluate their structures, offerings, and faculty.
Overall, I enjoy E Value it since it could be a great approach to dispassionately assess my company and create techniques that offer understanding into potential modern development roads.
Both the product and the team's offer assistance, at E Value it, have surpassed my desires.
Honestly this is a must use application available online like this is hidden gem which can make your work soo smooth that you even can't imagine.
Overall, I think E Value It is a great tool to help companies evaluate their organizations, products, services and skills. Its user friendly interface allows you to easily track progress and compare performance over time.